November 2020
(part of the Greater Bendigo Against Family Violence calendar of events for 16 days of activism campaign)
DO you live in Heathcote, a surrounding town or community?
You're invited to the Heathcote Community Dog Walk!
It's a 16-day long 'virtual' event to raise awareness on gender and family based violence in rural communities, Nov 25 – Dec 10.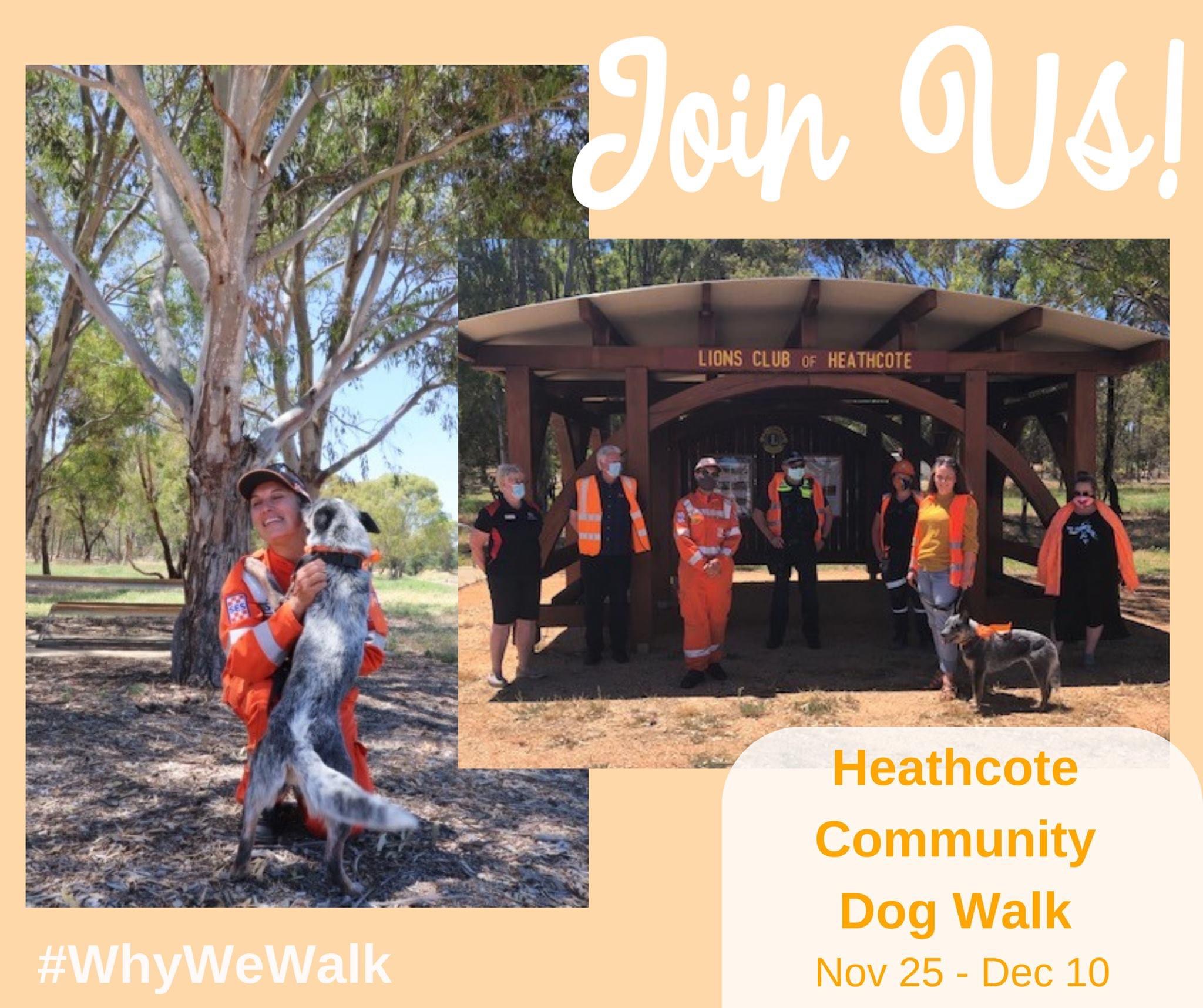 HOW IT WORKS
Get out with your family and friends on a walk – COVIDSafe – dogs encouraged, but not essential. We love the Heathcote Dog Park and the O'Keefe Rail Trail. Luckily they're located in the same place: next to the Lions rotunda and Heathcote Primary School car park on Herriot St (Mitre 10 end).
Wear something orange
Take a photo
Post it to social media with the hash tag #WhyWeWalk
The Heathcote Community Dog Walk is registered with the Safe Steps virtual walk, and is part of the Greater Bendigo Against Family Violence calendar of events, for the 16 days of activism campaign against family violence.
Together we can raise awareness and start an important conversation!
DO YOU NEED HELP? contact Orange Door (Loddon) on 1800 512 359 or visit https://orangedoor.vic.gov.au/ .
The Heathcote Community House can act as a point of referral for services, tel 5431 0930.
In an emergency, contact 000.
The Minister for Health, Martin Foley MP, is pleased to invite applications for part time board positions with terms of office commencing from 1 July 2021.
Safe and high quality healthcare for all Victorians is a priority of the Victorian Government. Applicants for board directorships must be able to demonstrate and provide evidence in support of the skills they identify in their applications.
These positions provide an exciting opportunity for members of the Victorian public with relevant experience and qualifications to contribute to the strategic leadership of public health care delivery to the community.
All applications will be considered however the board would particularly welcome applicants with expertise in the competency areas of:
Clinical Governance
Human Resources Management
Law
Please refer to the Position Description for more details about the competencies needed.
The Victorian Government is committed to ensuring boards and committees broadly reflect the diversity of the Victorian community. We welcome applications from women, Aboriginal and Torres Strait Islander people, people of all ages, people with disabilities, people from culturally and linguistically diverse backgrounds and lesbian, gay, bisexual, transgender, gender diverse and intersex people.
Applications close at 5.00 pm Monday 30 November 2020.
For further information including how to apply, please visit www.health.vic.gov.au/governance
How to Apply:
Applicants are required to register an account on the Get on Board website prior to applying online. Once you have registered an account with Get on Board, please click the 'apply online' button.
When you apply for a board position, you will be required to enter your personal details, and complete a declaration of private interests form before moving on to a questionnaire.
In the questionnaire, you will have the opportunity to address the key selection criteria and outline your relevant qualifications and experience. Applicants must upload a current curriculum vitae with their application.
Applicants should view the 'How to apply' document and position description when completing their application.
Board directors of public hospitals and multi purpose services are eligible to receive remuneration.
For further information, please visit https://www2.health.vic.gov.au/hospitals-and-health-
services/boards-and-governance/education-resources-for-boards/board-remuneration.
Applicants are able to apply to a maximum of five board director positions. If more than five positions are applied for, only the first five will be considered.
For all enquiries regarding the appointment process, please contact Liz Cleary (Liz.Cleary@dhhs.vic.gov.au).
For all enquiries regarding the board, please contact Michelle Chapman
(mchapman@heathcotehealth.org) (03) 5431-0903
Heathcote Health will be holding symptomatic coronavirus (COVID-19) testing clinics on Tuesday and Thursday each week.
During the summer period, as from Monday 16th November 2020, the
operation times will be 10am to 11am by appointment only. (testing not available on Public Holidays)
This means if you have any of the following symptoms of coronavirus (COVID-19) you may attend to be tested:
Fever
Cough
Shortness of breath
Chills or sweats
Sore throat
Runny nose
Loss of sense of smell or taste
In certain circumstances headaches, muscle soreness, stuffy nose, nausea, vomiting and diarrhoea may also be considered as symptoms.
The Heathcote Health Testing Clinic will operate as a drive-through service between 10:00am and 11:00am as from 16/11/2020 at the rear of the Social Support Group Building; enter via Hay Street and follow signage.
Please make a booking by phoning (03)5431-0900 in business hours.
A limited number of appointments are available each day.
Your patience and understanding is appreciated as we are currently experiencing a high volume of appointments.
Please bring your Medicare card, there will be no charge as the service will be bulk-billed
You will be asked a series of questions such as:
Full name
Date of birth
Address
Contact number
Email address – if you have one
Occupation
Do you identify as Aboriginal or Torres Strait Islander
Your symptoms
Travel history of the last 14 days
Contact with any confirmed cases of COVID19
Your consent will be required to proceed with testing
Please make a booking by phoning (03)5431-0900 in business hours
Please follow signage and directions of the Heathcote Health staff
Test results will be communicated to you directly
It is a directive that if your test results are positive, you will be required to isolate for 14-days & re-present (twice) for testing at the completion of the isolation period.
Please check the Heathcote Health Facebook page for up to date information regarding our COVID-19 Testing Clinic and all health related matters