December 2022
On behalf of our Heathcote Health Matters (HHM) team and sponsors who bring you Heathcote Health Matters each month, we would like to wish all our readers a very merry festive season and a happy, healthy and prosperous New Year in 2023.
We hope you have enjoyed us sharing key health and wellbeing information with you during the year and look forward to welcoming you back next year.
As seen in today's edition of The McIvor Times: timesnewsgroup.com.au/mcivortimes/print-editions/full-digital-edition-23-december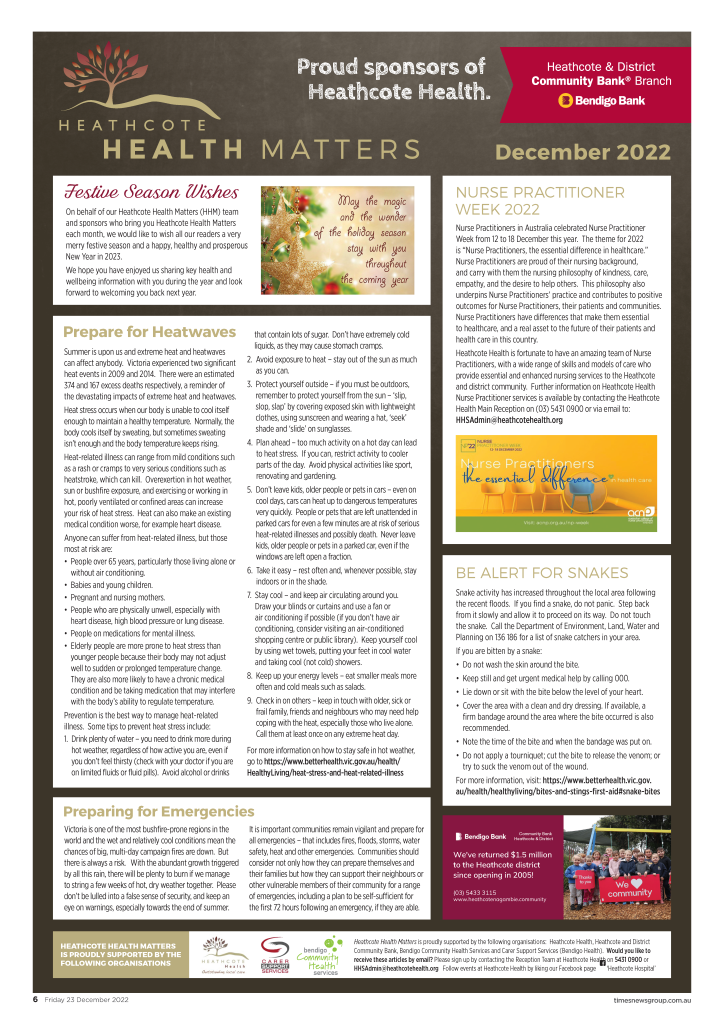 When
Saturday 31st December 2022
Time
12.00 – 4.00pm
Where
Heathcote Community House
Address: 55 Hospital St, Heathcote VIC 3523
Contact
1800 329 189
Please be aware that there is limited supply of the JE vaccine, we are doing everything we can to assist you and your community.
Please ensure that you meet the eligibility criteria. This is available via the below Japanese Encephalitis QR Code.
This clinic prefers bookings but will accept limited walk-ins
Click here to download the flyer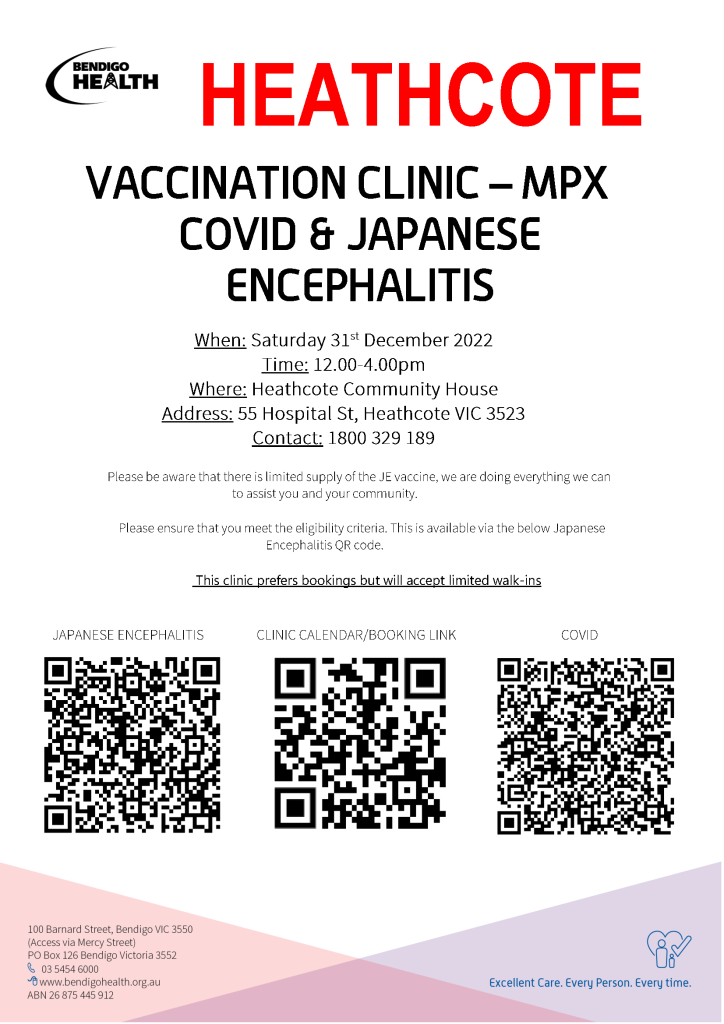 The Food Relief Network
The Food Relief Network is an informal network of local not-for-profit and charity groups who provide food assistance across Greater Bendigo.
Bendigo Community Food Pantry
Bendigo Community Food Pantry gives people who are finding things tough, free food orders to temporarily reduce their living costs and help them get back on their feet.
Food orders are made up to suit your needs from what we have available, and can include things like rice, lentils, bread, fruit, vegetables, and frozen meals.
Bendigo Community Food Pantry website: https://communityfoodpantry.org.au/
Bendigo Foodshare
Bendigo Foodshare provides food to central Victorians in need. You can assist by volunteering or making a donation of food or cash.
Food Relief Info flyer – December 2022.pdf
For more information visit website – https://www.heathcotehealth.org/food-relief-and-community-meals-in-greater-bendigo/